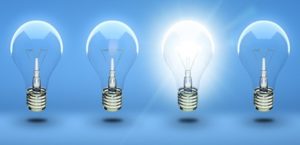 Every month, ASQ – American Society for Quality selects a quality-themed topic for Influential Voices bloggers to discuss as part of a round table. The October  topic is: How can employers leverage quality to invite innovation?
Here is my answer:
It is well known that innovation is an important driver of growth for any organization. The point is: how to reach that state of motivation and continuous-looking-for-generate-new-ideas set of mind in your employees, and further more, how to sustain innovation.
There are out there a lot of techniques and strategies that can address innovation, but the foundation to cultivate innovation is to "create and promote a collaborative and respectful environment where employees have the space and feel the freedom to innovate, in a regular basis".
What has to be on that innovative environment?
1. Motivated top Managers to innovate and that can encourage employees to get out of their comfort zones and reaching for new ideas.
2. Time and Resources to innovate.
3. Innovation is inherently risky, so employees must have the freedom of failure and taking risk. Managers should promote that FAILURE is not a negative but a must-happen positive learning experiences from where innovative ideas can be born.
4. As much as disparate groups as possible to boost the brainstorming of ideas.
5. Time to celebrate and reward employees for being innovative, no matter the results.
6. And the most important part for employees: they have to feel the sensation of ownership to the idea. People do a better job when they believe in what they do is adding value to the company and they are being recognized for that.
Innovation has to be part of the organization core strategies and managers' agenda. Scott Belsky, co-founder of Behance, Inc said:
"It is not about ideas. It's about making ideas happen". 
And for that, you need to create the environment to get those ideas moving, connecting and growing. When you create that environment and maintain it alive, it is when the wheel start rolling and never stop.
People have a lot of great ideas. If you give them the space to think out of the box, you will be surprise of the results. Nobel Prize Winner Dr Albert Szent-Gyorgyi said:
"Innovation is seeing what everybody else has seen, and thinking what nobody else has thought."
What do you think is the most important thing to consider to promote innovations? Share your thoughts with us!
Read more answers on the ASQ Blog. Check it here!