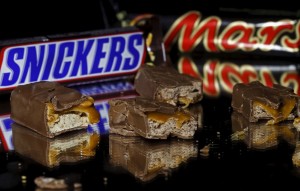 On February 23rd 2016 US-owned Mars, one of the biggest chocolate factory in the world announced a huge recall after a customer found a piece of red plastic in a Snickers bar bought in Germany on January 8th.  After he complained to the company, the plastic was traced back to its factory in the southern Dutch town of Veghel, where it was determined that the piece came from a protective cover used in the manufacturing process.
Jack Tabbers, general director of Mars Netherlands, explained that "a plastic pipe cover of around 15 centimeters was grounded during the production process and small parts of it ended up in products which, in the Netherlands alone leads to four million bars being called back. We also have to recall from 55 other countries all products that were produced in Veghel during that same time frame". He also added that even the plastic material that ended up in the production process is not harmful to people's stomach or intestines, the risk is that a piece of plastic can damage their throat or get stuck in there.
All chocolate products produced in that factory between December 5th-2015 and January 18th-2016, with expiration dates between June 19th-2016 and January 8th-2017, has been recalled. It includes Mars bars, Snickers, Milky Way Mini, Celebrations and MiniMix.
Listen to Jack Tabbers on this video explaining the situation (turn on your language translator if needed):
This is the message you can read in the Mars webiste talking about the situation:
"After a small piece of red plastic was found in one SNICKERS® bar purchased in Germany, Mars has made a precautionary decision to voluntarily recall a selection of SNICKERS®, MARS®, MILKY WAY® and CELEBRATIONS®products produced in our Netherlands factory.
We believe this is an isolated incident.
The recall concerns only specific products that were manufactured at the Netherlands facility during a limited production period, December 5, 2015 – January 18, 2016.
While the number of Mars products affected is limited, they have been shipped to numerous countries outside the Netherlands, including some duty free retailers.
As a precaution, the product recall is being implemented in all markets served by our Netherlands facility.
Only certain products labeled on pack as "Mars Netherlands" are affected by this recall. Mars Netherlands exports to a number of countries and some duty-free outlets, so the easiest way for consumers to determine whether they have a product that has been recalled is to look at the label. If it is not labeled "Mars Netherlands," it is not included in the recall.
If you have questions about the recall, please contact your local Mars Consumer Care representative."
How much it will cost to Mars? The number is still not known, but it is expected to be more than 10 millions of dollars.
Questions:
Even it is a precautionary measure what they are taken, how much will Mars be affected in its sales and, of course its reputation?
How come the customer complaint was on January 8th and the recall just came out on February 23rd?
What could be the cause that made this to happen? No following the processes? Lack of employee training? Poor quality system? Poor quality control/inspection on production materials/equipment?
Well, it is hard to imagine that this things happen in such a big company where do you think everything should be 'perfect'. But this is the best example that:
Perfection does not exist.
Organizations are managed and operated by humans, and we as humans make mistakes.
There is always going to be room for improvements no matter how big, well renowned and successful company you have.
What do you think? Share your thoughts with me!
Resources: